09/15/2023 11:00 AM Central
Gaia Bookkeeping · Kaeleya Rayne
In the Magic of my 'return to nature' garden, I am drawn to Goddess Gaia, to connect, to be mothered and to receive from Her.
Just now in my garden, with the birds sharing their joyful song and the wildflowers reaching for the sun, I received a Divine Download that She asked me to share with you.
Gaia wants you to be deeply rooted in your power, your heart and your wisdom.
"It IS the Way forward to bring your mission and your dreams to reality."
She wants you to know,. . .
She encourages you to walk with Her.
To honour Yourself in the process of honouring Her.
To stand in the crystalline heart of your core, with an attention on your sacred purpose and profits,
To flow love from the center of your business out into the world,. . .
To receive love from the world into your business. . .
This is Goddess Gaia's call to you.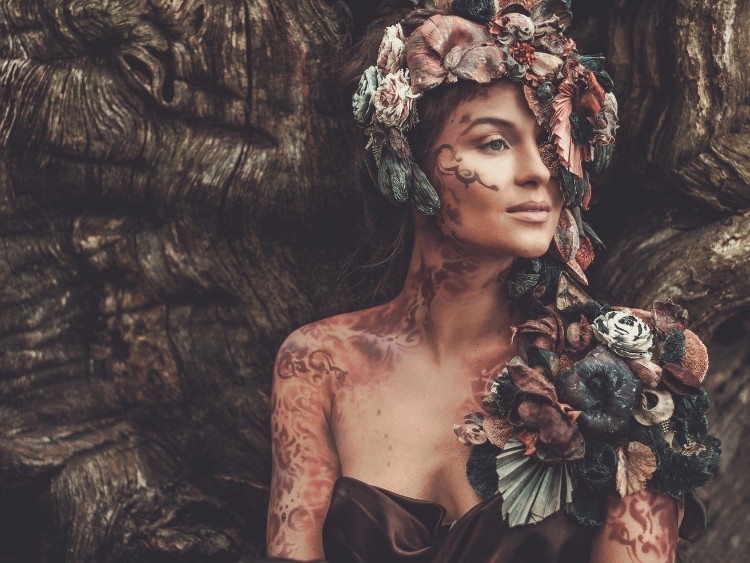 To keep things simple, here are 6 steps to connect, be mothered and receive from Goddess Gaia:
1. Relinquish Your Worries
Give them over to the Goddess, to the Universe, to Spirit.
I have found the best way to do this is to be attentive to your body.
Be aware of the habit of carrying stress and worries around with you as you move through your day.
Learn to say no to this habit and embrace having more peace as your norm.
Embrace a refinement path to peaceful communication within your magical being.
I have a process I use where I'll hear, 'give it over to the Goddess' when I'm not listening to my wisdom and instead engaged in worry or stress.
In that moment, I let go. I hand it over to Her and step back.
Almost like letting go of a knotted ball of twine that you've been working on to no avail. Just let it go.
Every single time I do this, everything that I was trying to figure out, or trying to control to change and 'make better', falls into place.
From double bookings naturally resolving, time management snafus disappearing, complications in business communications becoming streamlined and simplified. . . it always works out MUCH better than if I continued to press, worry and stress.
Focus your gaze where you are filled with awe and wonder.
So often, we focus on the negative because it keeps us safe.
This is natural for us as humans!
And yet, if we don't put a boundary around our negativity, we can get caught up and swept away, leaving us out of focus with all of the magic that is being offered to us.
It is in the opening of your joy energy that you can hear, and receive, connect and be nurtured and mothered by Goddess Gaia.
The more we practice opening our energy in this way, the stronger the pathway to Gaia (and our higher selves) becomes and the more the magic stays within our sight even when we are troubled or in sadness.
And in this way, you can begin to deepen your support connection at every level of your life and business experience. In good times and bad.
3. Acknowledge Your Magic
Know your truth. You are magic.
Magic surrounds you in every step you take.
Acknowledgment of this shifts you into alignment, into congruence with your own deepest truth.
It is here you can hear Goddess Gaia and work with her.
Get grounded, rooted into the earth.
Feel the connection to your desires leap from hope to faith in the process of feeling all of the bounty that Goddess Gaia brings!
Feel the connection to what you desire as a real and tangible reality that is on its way to you and feed that flow with intuitively aligned action, clarity, and perspective.
Feed your faith to have faith.
5. Open Your Receiver Channels
Become a hollow bone for the Divine to flow through you and into your life.
Learn to open your own body to receive.
Use your breath and your intention.
Use your energy skills and your wisdom to open the Receiver Channels.
Know that you ARE the magnet, you are the Flow.
Opening up these channels brings abundance, healing, love and growth to your business, your life and those around you who wish to receive from you.
You can use your Divinational Tools to help you see where you need to open your energy, or you can use your hands to feel where the flow energy is present or absent and then do the work to open that flow.
6. Communicate With Goddess Gaia
Learn how to feel the trees. To hear them and their wisdom for you.
Learn to feel the pulse and the heartbeat of the Earth.
Learn to listen to Her streams, to hear the call of the Elementals and energies that live and thrive on clean water, flowers and stones.
Learn to love Her. And Yourself.
That is Her deepest wish.

I have always felt that Goddess Gaia was the most brilliant business woman on earth.
With her systems, her cycles, her awareness of timing and exactly how, when and what is needed to rest, grow, bloom and be harvested. . . she is the greatest Business Magician of all time!
I deeply appreciate the value of listening, of paying attention and taking direction from Goddess Gaia.
Over and over again, Her nudges and wisdom have led me to peace and prosperity in so many abundantly magical ways.
She is there for you too. Most ardently, She says. ❤️
I have also always felt that you, the Heart Centered and Highly Sensitive Business Woman who lives and walks as a sacred channel, writer, artist, intuitive, healer or coach,. . . you are what the world needs to transform from pain and corruption to peace and harmony.
It is your love and business that will create the conscious tip Goddess Gaia is asking for, for Her land, waters, Her people, and all of Her creatures.
You and your business are here to make a positive shift in the world.
It matters not what you sell, it could be coaching packages, dancing programs, theatre tickets, content, books, greeting cards, paintings, energy healings and more. . .
What matters is doing the work to open to your highest way of being here, to open to receive the wisdom from the Earth, from the Divine, from Goddess Gaia and the Ascended Spirits who guide you with love and clarity.
That is what we are really doing with this work. . .
Refining our hidden abilities into super powered skills we use to fulfil our sacred purpose and profits, and learning to open and receive the bounty of our own hearts, of our love and of this world.
I believe in you so much, in the very nature of who you are.
Blessings be to your journey here and to your deepening relationship with Goddess Gaia. She is here for you.
Together, with Goddess Gaia, Mother Earth, we can make this world a better place for all of us.
Here's to your Divine Magic,